Here again for another week with Mrs. Laffin!!
I'm coming back from my Spring Break this week and I imagine it is going to be very hard to get up in the morning! But I spend the morning planning out the week with my teaching bud, Madison, and we are very excited about our plans.
First off, we will be starting a week long greek mythology unit. I absolutely love greek mythology as did my students last year. I think what is appealing to students is all the interesting stories. They know that the gods/goddesses aren't real but it is fun to hear all the crazy myths about them. I will be using the following unit by Nicole Shelby throughout the week for different activities.
(Students will complete story maps, character analysis, and use the venn diagram from her pack.)
For the first half of the week during reading groups, I plan on using a Reading A-Z close reading pack. (If you haven't checked them out you totally should :)) The students are put into groups of four. Each student gets a different myth and they read it two times by themselves. Then they answer the key question: "How are some ancient tales and our present day language connected?". After they have completed this all the students will come together with their group and share what their myth was about and come up with a general answer to the key question.
Later in the week, the students will be given a different version of their myth and they will get into groups with those students who have the same myth as them. They will compare and contrast the two versions. On Friday, I plan on having the students present a short summary of their myth to the class. Then we will discuss the different allusions we use in the present day!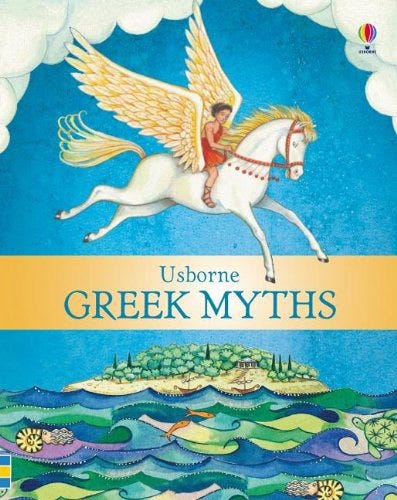 (This is the book I will get the different versions from.)
After reading groups are over, the students will split up into two groups for mythology rotations.
Group 1 will be working on researching 1-2 greek gods/goddesses, heroes, or creatures. They will list three facts about their character and and symbols that are important to them. After the research is complete the students will make a "trading card" on the iPad using Keynote. Once their trading card is finished they are going to write a Most Important Poem from the Greek Mythology Pack above.
Group 2 will spend time immersing themselves in books about Greek Mythology. We took the majority of the school library's books about this topic :O. Hopefully no one will want to read about myths in the next week :). While they are reading, students will make a T-chart and record any text they find interesting on one side and tell why they like it on the other side. I think it's very important for students to become immersed in a topic and have choice over what they read so that's why we included this as a rotation.
Now on to math!! I usually just blog about reading because that is my passion but I am very pumped about a product I bought on TPT this weekend! Are you ready? Ok I am going to try interactive math notebooks for the first time tomorrow using the product below! It looks super kid-friendly and very engaging. I've been hesitant to use interactive notebooks all year because I feel like all the cutting and gluing will take a long time. But when I saw the geometry pack, I thought this is something that is hands on and the group of students I have really need that.
As a final note, I am working on a TPT product and want to give everyone a little sneak peak. I hope to be done with it by next week!
This will be greek god fact cards that I am going to use at a fluency station!
Thanks for stopping by! I love hearing comments and new ideas!