Now onto what's going on in Ms. G's class this month.
April is a busy, busy month!
#1 Free Verse poetry writing for National Poetry Month. I am hoping to have a poetry slam day at the end of the month. The students have been writing up a storm and are loving poetry. They are so eager to share their poems everyday. Students are going to start editing and typing up their poems on the "Notebook +" app on the iPads. Then they will create their very own poetry anthology. I've gotten all my inspiration and lesson ideas from the infamous Regie Routman. Check out her book.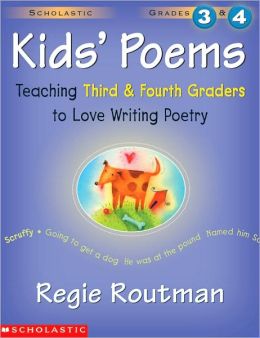 #2 Country Research for International Day on April 25th. Students have been working for the last three weeks researching a country of their choice in preparation for a presentation on International Day. I got the project guidelines from teacherspayteachers. The project has students pretend like they are going on a vacation to their chosen country. The kids write about the country like they are actually there. The students have had to broaden their thinking and get creative. As a final project the students will then create a Prezi or powerpoint on their country and bring in a "suitcase full of souvenirs" from their travels.
#3 Starting next week I will begin the dreaded test prep. AAAHHH!!!! But as a fun way to review for the BIG TEST I'm going to have the students participate in test prep rotations.
1. Teacher Time- I plan on using these resources during time with me. I plan on reviewing test taking strategies and how questions are worded because my students struggle with the format in which questions are asked on the State tests.
CCSS TDQ Text Evidence April Close Reading Comp Pack
2. Independent Time- I plan on using the following pack because it does a good job of reviewing comprehension, vocabulary, grammar, and writing all on one page!
Common Core ELA Fourth Grade Test Prep
3. Vocabulary Games from Florida Reading Research Center as well as some TPT resources.
4. iPads- I will be having the kids using the following website to review reading strategies learned throughout the year. I like the lesson, practice, and "quiz" format.
New York Elementary Test Prep
Well that's all for now! :)